Science Fair
Manufacturer #:
JBQ 129
Another great pattern from Jaybird Quilts, "Science Fair" is a complicated-looking quilt that is really easy to construct.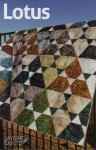 Toes in the Sand Block of the Month
Don't we all dream of putting our toes in the sand sometimes? Join us on a beach-hopping trip up the California coast as we visit Jaybird Quilt's favorite beaches, making two blocks at each "stop".
Night Sky Quilt Pattern
UPC:
12010222
Manufacturer #:
JBQ 137
You'll love this new pattern from Jaybird Quilts - bright, cheery and NO "Y" SEAMS!
$10.00
Seaside Table Runner
One of Jaybird Quilts latest creations is the Seaside Table Runner - part of her new "little patterns" line. And guess what? It's made completely from diamonds!
$5.85 - $22.85
Kaufman Artisan Batiks
Only one left! Beautiful reds and blues in this 2.5" roll of 40 strips from Robert Kaufman Artisan Batiks has almost a patriotic feel to it. Pair it with our metallic sunburst and Fast Forward pattern from Jaybird Quilts for a winning combination!
$39.99