Science Fair
Manufacturer #:
JBQ 129
Another great pattern from Jaybird Quilts, "Science Fair" is a complicated-looking quilt that is really easy to construct.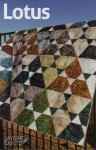 Night Sky Quilt Pattern
UPC:
12010222
Manufacturer #:
JBQ 137
You'll love this new pattern from Jaybird Quilts - bright, cheery and NO "Y" SEAMS!
$10.00
Kaufman Artisan Batiks
Only one left! Beautiful reds and blues in this 2.5" roll of 40 strips from Robert Kaufman Artisan Batiks has almost a patriotic feel to it. Pair it with our metallic sunburst and Fast Forward pattern from Jaybird Quilts for a winning combination!
$39.99
Fast Forward
Fast Forward is a great project from Jaybird Quilts for using those pre-cut 2.5" strips! The spiraling columns will appear to float on the top! For the best effect, the background fabric should contrast sharply with the strips.