Northern Lights Quilt Pattern and Kit
This dramatic quilt is put together quickly and easily using the Hex N More ruler. The pattern gives you directions to create five different sizes of
"quilts"
(baby, lap, twin, queen or king) and is a great way to show off some beautiful quilting. Use y
$10.00 - $70.00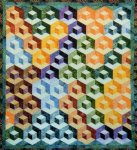 Rough Stones Quilt Pattern and Kit
Gleaming emeralds sparkle in this contemporary quilt. Mismatched sizes take the need for perfection off the table for built-in success! The movement of the blocks keeps your eye flowing through the quilt.
$7.75 - $72.00
Solstice Quilt Pattern and Kit
There is no reason to be afraid of curves in this stack and shuffle curvy quilt! There are no templates, so no two will be exactly the same. Stack, cut and shuffle – that is all there is to achieving this innovative design.
$9.00 - $72.00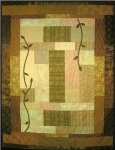 The Clearing
Let this quilt take you to the secret part of the forest. The Clearing is the quiet, calm and peaceful center of a beautiful piece of nature at its best. Bring a slice of the outdoors inside with this wonderful lap quilt (58" x 74").
$9.00 - $70.00
Mind Your Mama! Block of the Month
Manufacturer #:
EPQ125
Calling all Redwork Lovers! We've taken Eazy Peazy Quilts' adorable new "Mind Your Mama" pattern and broken it out into a Block of the Month program we're sure you'll enjoy. What a great gift for that special youngster in your life!