"JOY" Block of the Month

"Joy" is such a simple word, but with so many different meanings. This quilt by Whirligig Designs was inspired by her mother's love of family and we bet you can relate to the story as it unfolds with each block.



Out of Stock
Around Times Square Block of the Month

Take a colorful walk around Times Square with us and "Wing and a Prayer" designs!


Asteria Block of the Month

Asteria, Goddess of the Stars - the inspiration for this stunning quilt.


Autumn Color Me Happy

ONLY TWO SPOTS LEFT! Our first "Color Me Happy" was so popular, we thought we'd offer it in a different colorway. We had a special edition batik that looking like beautiful fall foliage, and we built the quilt around that fabric.



Out of Stock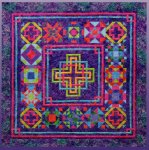 Celtic Crystals

Are you ready for some new-age magic in your life?



Out of Stock
Color Me Happy

Join us for this 14-month 1-hour Block of the Month!



Out of Stock
In The Beginning

The first block in this series is entitled "Creation" -- it's always important to start at the beginning, right? "Creation" is followed by Temptation, and the third month will be "Noah's Ark".


Land of Liberty Block of the Month

Let freedom ring!


Midnight Posies

This classic beginner sampler quilt from Morning Glory Designs walks you step by step through each block and all the techniques needed to make them with accuracy and precision.



Out of Stock
Mulberry Stars Block of the Month

Mulberry, forest greens, amber, gold and creamy backgrounds combine to make this stunner from Wing and a Prayer Designs.


Neon Nights Block of the Month

Neon Nights! Brights on Black, 14-month program that is great for beginners!



Out of Stock
Portrait of a Lady

Don't we all love a good story, especially when it relates to someone special in our lives?


Slightly Bad Girls of the Bible Block of the Month

In just five short months you can complete this lap quilt top that tells a story with every block!