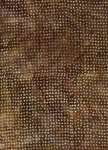 Brown Boomerangs

This great blender from Kaufman is a medium to dark hand-dye background with tiny beige "boomerangs" (or chicken feet) in an all-over design.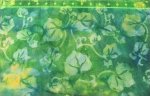 Green/Blue

Green/blue/purple mottled background batik with wood block leaves/vines.


Kaufman Midnight Batik

This gorgeous midnight-blue Kaufman batik has metallic silver starbursts on one side. The reverse is a hard-to-find stormy night tonal hand dye with incredible depth and texture.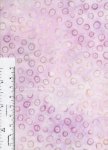 Palest Lilac Circle Print Batik

This Kaufman Artisan Batik has pale violet and lilac circles and dots on the palest lavender tonal background - beautiful blender or background!


SALE:
$ 13.50

$ 10.25

per yard