Look here for needles, pins, buttons, snaps and miscellaneous tools.
Binding Express

Press Your Quilt Binding Perfectly


Bohin Magnetic Snap

This 3/4" silver magnetic snap from Bohin is the perfect fastener for those beautiful bags you'll be making with our bag patterns.


Bohin Microtex Machine Needles

This Bohin Microtex needles are our absolute favorites when working with Batiks. They pierce the fabric cleanly and last forever. One pack includes three sizes for general use.


Bohin Universal Needle Assortment

Bohin is our favorite needle manufacturer. This pack of five universal needles includes sizes 70, 80 and 90.


Easy Binding Winder

The Easy Binding Winder



Out of Stock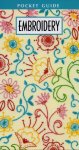 Embroidery Pocket Guide

New to redwork or hand embroidery? Need a refresher "course"? Try our handy pocket guide to embroidery!


Flat Head Flower Pins

We love these pins for paper-piecing because they lie flat and don't get in the way when creasing the paper foundation for seam allowances. It doesn't hurt that they're so cute!


Foxglove Cottage Embroidery Needle Sampler

Are you a hand embroiderer? Have you tried Jeanne Kimball's Foxglove Cottage embroidery needles? They're our most favorite needle for hand embroidery, and this sampler package gives you five different sizes to try.


Happy Holidays Buttons

From Buttons Galore, this assortment of holiday buttons work great on our holiday-themed wall hangings!


Holiday Fun! Button Packs

Use these adorable button packs to decorate all those fun holiday wall hangings you're making! Choose from a 3-pc Star set or 6-pc Gifts set.


Press Perfect Iron Finger

We love our new "Iron Finger" pressing tool!


Zirkel Magnetic Pincushion Lime Green

Zirkel Magnetic Pincushion Lime Green