Bailey Island Hobo

Bailey Island Hobo bag is comfortable and easy -- just like an island vacation!


Bodacious Brag Bag Pattern

From Eazy Peazy designs, this Bodacious Brag Bag is unique, stylish & fun - even better, it goes together quickly and easily. Great size!


Breezy Weave Bags

Another fun pattern from Aunties Two Patterns, this bag is created by weaving fabric strips to create fun bags for just about any occasion. Perfect for jelly roll and Bali Pop strips!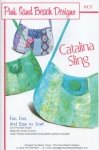 Catalina Sling

This wonderful bag pattern from Pink Sand Beach Designs is easy to understand and fun to sew! There are lots of options to customize your bag and it's the perfect size to carry.


Change-Your-Mind Slipcover Bag

This wonderful pattern from Straight Stitch Society is hot off the presses! We love SSS's sassy attitude about life in general, and really love their well-written patterns.


Coupon Caddy

This pattern from Eazy Peazy Quilts is a quick, easy project that will help you keep your valuable coupons handy at all times.


Eazy Peazy Gifts Book

We can't say enough good things about this great book from Eazy Peazy Quilts!


Everyday Totes Book

Love bags? You'll relish the patterns in this fabulous book of Everyday Totes!


Mini Wallet and Luggage Tag

This is a great "two-fer" pattern from Eazy Peazy Quilts, featuring a Mini Wallet/Business Card Case and a Luggage Tag.


Santa Barbara

This cute tote is part of A Quilter's Dream "6-Pack Bag" collection. The bag is fully lined and has two pockets inside. The handles are the ideal length to sling over your shoulder or hold in your hand without dragging on the floor.


Saturday Shopper Bag

The Saturday Shopper bag from Aunties Two Patterns is a great bag for any shopping trip!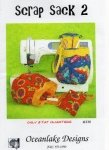 Scrap Sack 2

This is the 2nd generation of Oceanlake Designs "Scrap Sack" pattern and uses only 2 fat quarters! Basic sewing skills are all that are needed for this fun pattern.



Out of Stock
Split Personality Reversible Bag Pattern

Another hot-off-the-press pattern from the Straight Stitch Society, this reversible bag pattern will have you strutting your stuff in no time at all.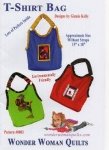 T-Shirt Tote Bag Pattern

GO GREEN! RECYCLE! Use a t-shirt to make this wonderful tote bag from Wonder Woman Quilts -- full of pockets, it's incredibly versatile.


Zippy Bag Pattern

This "Zippy Bag" pattern from Wonder Woman Quilts uses everyday plastic zipper bags to organize your accessories.