Indygo Essentials: Slight Sleeve Top and Tunic

Indygo Essentials: Slight Sleeve Top and Tunic


Start After Breakfast Jacket Pattern

This unique pattern is designed to let you be creative!



Out of Stock
A Little Somethin' Jacket

Sometimes you just need "A Little Somethin'" to throw over your top, right?


Myla Tank Top

It's time to break out those tank tops for the summer heat!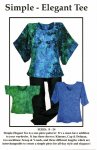 Simple-Elegant Tee

Simple-Elegant Tee is a one piece pattern - finish the neckline with a bias strip, sew the side seams and hem for Simple ... Elegance!


Blossoms & Bloomers

This adorable pattern from Favorite Things is so versatile! Pattern includes templates and instructions to make a hat, jumper or top and bloomers for sizes ranging from newborn to Size 5.


Fashion Formula Skirts

From Serendipity Studio, here is Volume 3 of Fashion Formula Skirts - a collection of 12 panel skirts done 12 different ways!


Little Charmers

Don't you love this adorable little dress from Indygo Junction?


Sew Easy Pajama Pants by Taylor Made Designs

This popular book from Cindy Taylor Oates provides patterns and instructions for easy-to-make lounge pants, tote bags and pillowcases. Great for yourself or as gifts!



Out of Stock
Shoulder Tie Topper

Don't you just love Indygo Junction patterns? This one is a favorite of ours - so easy to make, so easy to personalize, and looks cute on every little girl who wears it!



Out of Stock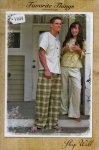 Sleep Well

Stylish and comfortable, pajamas are just right for relaxation. The modern cut of this pattern is suitable for women or men, and work up beautifully in our batiks.


Summer Time

You'll love this forgiving top from Favorite Things - loose and comfortable with front tie and optional cap sleeves, the top has a curved hemline front and back and is versatile enough to use as a maternity top.


The London Peasant Top/Dress Pattern

What better use of batiks can you have for women, than a classic but updated peasant top or dress? We love Lila Tueller's well-written, well-illustrated, easy-to-follow patterns.


The New Camp Shirt by Cindy Taylor Oates

This modern take on the traditional camp shirt features princess seams for a flattering fit that isn't "too" fitted.



Out of Stock