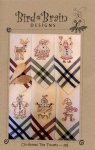 Christmas Tea Towels

Have some holiday fun making pretty tea towels that are useful too!



Out of Stock
Winter Melody

Winter Melody


Gift Mixes!

Gift mixes and bags in which to present them!


Chain Reaction Quilt Kit or Pattern

Modern design from Debbie Maddy at Calico Carriage Quilts! You'll love the ease with which this table runner or bed scarf goes together.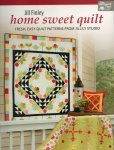 Home Sweet Quilt

Give your home a modern-traditional look with fresh, easy quilts from Jillily!


Merry, Merry Dish Towel Kit

Three beautiful designs (a ribbon-wrapped candy cane, a ribbon-tied bunch of holly and a lovely ornament) are in this pattern from Crabapple Hill Studio.


SALE:
$ 1.00-$ 20.00

$ 1.00-$ 17.00





New Year's Eve Wall Hanging

Ring in the New Year with this 6" x 22" wall hanging from Patch Abilities!


SALE:
$ 9.00-$ 18.00

$ 8.00-$ 15.00





Night Before Christmas Redwork Pattern and Kit

"The children were nestled all snug in their beds…" is embroidered on the border of this darling pillowcase, using Crabapple Hill's sweet and dreamy design.


SALE:
$ 10.00-$ 34.99

$ 10.00-$ 29.00





Rock Candy Table Topper Pattern

Rock Candy! Use Jaybird Quilts' new pattern to create this hexagon-shaped table topper.


Shining Star Wall Hanging

We love this Shining Star wall hanging from Debbie Maddie at Calico Carriage! No "Y" seams, no diamonds, truly simple construction that yields dramatic results!


The Lantern Shade

Totally gorgeous lantern shades that anyone can make. Seriously cool. Seriously easy!



Out of Stock