1,000 Clever Sewing Shortcuts and Tips Book

This big little book is packed full of the best hands-on insider sewing tips from the popular sewing website PatternReview.com.


101 One-Yard Wonders Book

This is a fantastic book of 101 wonderful sewing projects as well as great basic information for beginning sewists.


Any Season Robe by Cindy Taylor Oates

Another winning book by Cindy Taylor Oates, this one features three different versions of robes, plus patterns for a laundry bag and travel bag.



Out of Stock
Bailey Island Hobo

Bailey Island Hobo bag is comfortable and easy -- just like an island vacation!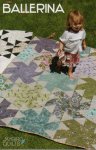 Ballerina

Ballerina is ideal for showcasing large scale fabrics. Select a contrasting background fabric to create these dancing blocks. The pattern designer used the 12" Finished Sized Creative Grids ® 60 Degree Triangle Ruler, available here, to complet


Blossoms & Bloomers

This adorable pattern from Favorite Things is so versatile! Pattern includes templates and instructions to make a hat, jumper or top and bloomers for sizes ranging from newborn to Size 5.


Breezy Weave Bags

Another fun pattern from Aunties Two Patterns, this bag is created by weaving fabric strips to create fun bags for just about any occasion. Perfect for jelly roll and Bali Pop strips!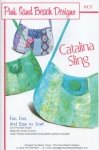 Catalina Sling

This wonderful bag pattern from Pink Sand Beach Designs is easy to understand and fun to sew! There are lots of options to customize your bag and it's the perfect size to carry.


Change-Your-Mind Slipcover Bag

This wonderful pattern from Straight Stitch Society is hot off the presses! We love SSS's sassy attitude about life in general, and really love their well-written patterns.


Christmas Countdown

Count down the days until Christmas with this fun advent calendar from Kim Schaefer of the Little Quilt Company.


Christmas Ribbons Quilt Pattern

Make a Christmas Ribbon quilt, or a spring/summer daisy quilt - your choice!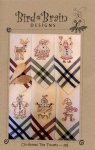 Christmas Tea Towels

Have some holiday fun making pretty tea towels that are useful too!



Out of Stock
Coupon Caddy

This pattern from Eazy Peazy Quilts is a quick, easy project that will help you keep your valuable coupons handy at all times.


Ditto

Another dramatic quilt from Jaybird Quilts, made simple with the use of Creative Grids ® Lazy Angle ® Ruler, this quilt is also great for large scale fabrics combined with small and medium scale prints to create a unique quilt in three different siz


Fashion Formula Skirts

From Serendipity Studio, here is Volume 3 of Fashion Formula Skirts - a collection of 12 panel skirts done 12 different ways!


Freckles Frenzy

This bargello-style quilt pattern was designed by Patti Carey, initially as a way to feature Northcott Freckles line of fabrics. However, it's perfect for batiks and their "blendy" personalities.



Out of Stock
Happy Holidays

Another winner from Atkinson Designs! Turn rectangles into stunning triangles for every season, any reason.



Out of Stock
Heart to Heart Wall Hanging

How about a sweet wall hanging for Valentine's Day or Mother's Day this year?


Hip Chicks

This sassy wall hanging and table runner pattern from Kariepatch Designs will keep you in stitches!



Out of Stock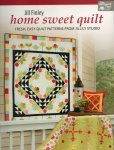 Home Sweet Quilt

Give your home a modern-traditional look with fresh, easy quilts from Jillily!


Hugs & Kisses Lap Quilt

A colorful lap quilt from Itzaluludesigns, Hugs & Kisses is perfect for using up those scraps you've been saving,


Inversion

Don't you love Maple Island Quilts? Their designs are unique, the instructions are clear, they're perfect for batiks ... they're winners all the way 'round.


Josephine's Knot

Josephine's Knot is another winner from Debbie Maddie of Calico Carriage Quilt Designs!



Out of Stock
Lessons from Mama

This book from Atkinson's Designs provide 12 easy to follow lessons that will improve and expand your range of quilting techniques.



Out of Stock
Make It Modern

This new book from Ann D. Hansen has five contemporary designs to help you make it modern, make it simple, and make it NOW.


Midnight Quilts by Lerlene Nevaril

Move over LIME ... there's a NEW NEUTRAL in town, and it's called BLACK! "Midnight Quilts" by Lerlene Nevaril gives you 11 sparkling projects to light up the night.



Out of Stock
Mind Your Mama!

Things you've heard and said yourself how many times? And the bottom line is "Mind Your Mama!"


Mini Wallet and Luggage Tag

This is a great "two-fer" pattern from Eazy Peazy Quilts, featuring a Mini Wallet/Business Card Case and a Luggage Tag.


Mini-Mosaic Quilts Book

We love this brand new book from Paula Doyle!


Modern Minimal

This just-released book by Alissa Haight Carlton is guaranteed to inspire you!


Modern Patch Work

Expand your skills with new designs and techniques from the best-selling author of "The Practical Guide to Patchwork".


Perkie Poinsettia Wall Hanging

Welcome your guests with this lovely "Noel" wall hanging, featuring Patch Abilities "perkie poinsettia.


SALE:
$ 9.00-$ 18.00

$ 8.00-$ 15.00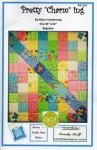 Pretty "Charm"ing Quilt Pattern

Need a new pattern for those charm packs you've been collecting? This beginner-level quilt could be just the ticket! The pattern is easy to make and you can change up the theme to suit the recipient.


Pumpkin Head Wall Hanging Kit

Are you or someone you love a scarecrow lover? Our wall hanging kit (13" x 15") comes complete with everything you need to complete the project: all fabrics for the top, back & binding, complete pattern with illustrated instructions, batting, embroi


Put Some Charm in Your Quilts

Connie Kauffman's new book, "Put Some Charm in Your Quilts (TM)" has nine fabulous projects to inspire you with options for paper-piecing or traditional piecing.


Quilts of Praise

Bring your favorite Christian hymns beautifully to life.


Russian Rubix

We love this pattern from Prairie Grass Patterns - partly because it's bright, and partly because of the hexagons!



Out of Stock
Santa

Who wouldn't love to receive this adorable little wall hanging this year? Our wall hanging kit (13" x 15") comes COMPLETE with everything you need to make this project: all fabrics and wool felt for the top, background, back and binding,


Saturday Shopper Bag

The Saturday Shopper bag from Aunties Two Patterns is a great bag for any shopping trip!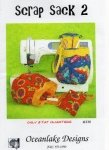 Scrap Sack 2

This is the 2nd generation of Oceanlake Designs "Scrap Sack" pattern and uses only 2 fat quarters! Basic sewing skills are all that are needed for this fun pattern.



Out of Stock
Sew Easy Pajama Pants by Taylor Made Designs

This popular book from Cindy Taylor Oates provides patterns and instructions for easy-to-make lounge pants, tote bags and pillowcases. Great for yourself or as gifts!



Out of Stock
Shadowbox

This striking pattern is another winner from Mountainpeek Creations (TM). Minimal effort produces maximum graphic effect with this winner!



Out of Stock
Simply Fat Quarters

Brand new from It's So Emma, there are 10 sweet quilt patterns in this timely book, all designed for use with fat quarters.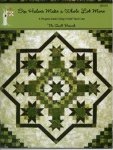 Six Halves Make a Whole Lot More

We can't wait to dive into this book by Susan Knapp & Mary Jane Mattingly of The Quilt Branch!



Out of Stock
Snow Folk

You can easily make these six ornaments in time for gift-giving this year! Our kit is COMPLETE with everything you need to make each ornament: Felt for 6 ornaments, complete patterns with illustrated instructions, embroidery floss and gold string, along


Snow Friends

Are you or someone you love a snowperson lover? Our wall hanging kit (13" x 15") comes COMPLETE with everything you need to make this project.


Soho Sampler

From Sandy Gervais, this beautiful sampler includes pieced and appliqued blocks.


Summer Time

You'll love this forgiving top from Favorite Things - loose and comfortable with front tie and optional cap sleeves, the top has a curved hemline front and back and is versatile enough to use as a maternity top.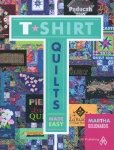 T-Shirt Quilts Made Easy by Martha Deleonardis

This brand-new book by Martha Deleonardis features 10 projects with easy planning guides, block charts and block set guides for super easy designing and sewing.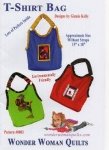 T-Shirt Tote Bag Pattern

GO GREEN! RECYCLE! Use a t-shirt to make this wonderful tote bag from Wonder Woman Quilts -- full of pockets, it's incredibly versatile.


The Lantern Shade

Totally gorgeous lantern shades that anyone can make. Seriously cool. Seriously easy!



Out of Stock
The London Peasant Top/Dress Pattern

What better use of batiks can you have for women, than a classic but updated peasant top or dress? We love Lila Tueller's well-written, well-illustrated, easy-to-follow patterns.


The New Camp Shirt by Cindy Taylor Oates

This modern take on the traditional camp shirt features princess seams for a flattering fit that isn't "too" fitted.



Out of Stock
Wonton

This beautiful quilt is put together quickly and easily using the Hex N More ruler. The pattern gives you directions for creating three different sizes of quilts (baby, lap or twin) and is great for featuring those beautiful fabrics you don't want to c


Zippy Bag Pattern

This "Zippy Bag" pattern from Wonder Woman Quilts uses everyday plastic zipper bags to organize your accessories.